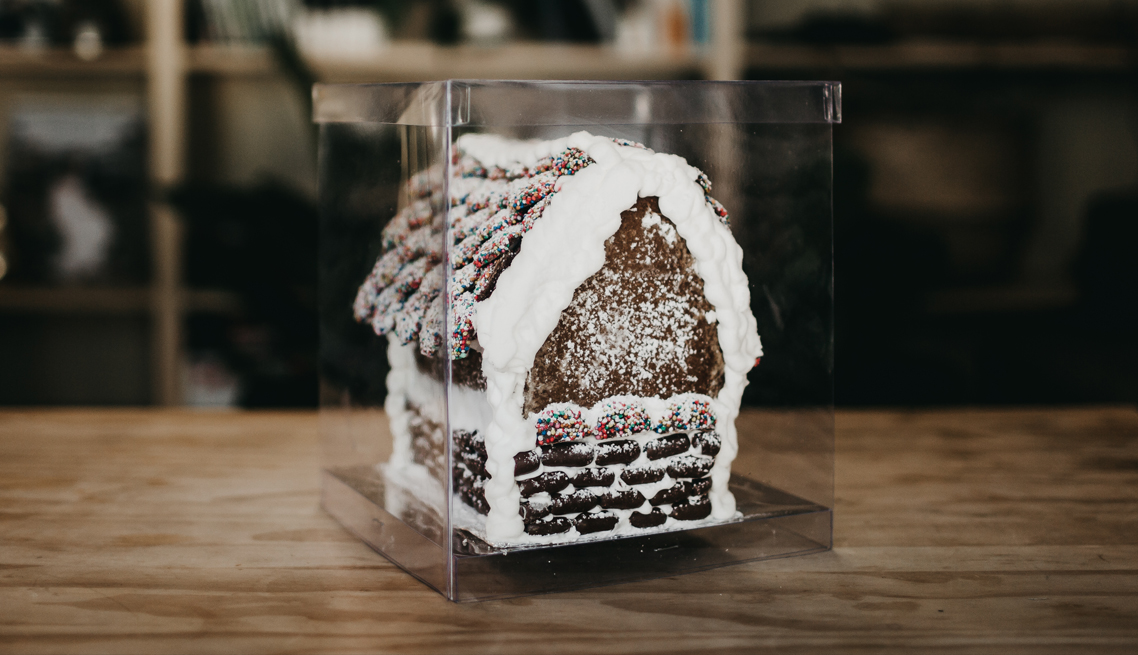 SHILOH PLASTICS MAKES & SUPPLIES FABRICATED DISPLAY BOXES
WHAT IS A FABRICATED DISPLAY BOX?
THE PERFECT SQUARE CAKE BOX
The fabricated display box works perfectly as a plastic square cake box. Also, because it is square it works well for gingerbread houses
LIKE A CYLINDER ONLY A SQUARE
The best way to describe a fabricated display box is that it is a bit like one of our cylinders, only square. However you will find that if you order them they will arrive packed differently to the cylinders. Unlike our cylinders which can be ordered as a single box quantity, fabricated boxes are shipped in three separate cartons. Therefore you will receive the bodies, lids and bases in three separate cartons. The body of the box comes flat-packed. As such, it is made from one piece of plastic with one glued seam. Then the base, which comes in a separate carton fits inside the bottom of the body and is made to be stapled or taped in place. Lastly, the lid which is packed in a third carton is placed over the top.
MANY USES
There are many possible uses for fabricated boxes, but in particular they make a great square cake box. Then of course they are great for gingerbread houses. However don't feel that you are limited by these applications. You can use them however you like.
OUR CURRENT RANGE:

See lists of our current range below. Please not that custom sized packs can be organized and sizes are approximate only. The minimum order quantity is 100 boxes.
Our price list is also available upon request and samples are also available for the minimal cost of freight.
PRODUCT LIST:
| PRODUCT CODE | DIMENSIONS | MINIMUM QTY |
| --- | --- | --- |
| DB115140130 | 115mm x 140mm x 130mm | 100 |
| DB150150200 | 150mm x 150mm x 200mm | 100 |
| DB203203230 | 203mm x 203mm x 230mm | 100 |
| DB203203190 | 203mm x 203mm x 190mm | 100 |
| DB203203250 | 203mm x 203mm x 250mm | 100 |
| DB203203360 | 203mm x 203mm x 360mm | 100 |
| DB206307170 | 206mm x 307mm x 170mm | 100 |
| DB25325365 | 253mm x 253mm x 65mm | 100 |
| DB253253254 | 253mm x 253mm x 254mm | 100 |
| DB37841825 | 378mm x 418mm x 325mm | 100 |
| PRODUCT CODE | DIMENSIONS | MINIMUM QTY |
| --- | --- | --- |
| DB25325365 | 253mm x 253mm x 65mm | 100 |
| DB115140130 | 115mm x 140mm x 130mm | 100 |
| DB203307170 | 206mm x 307mm x 170mm | 100 |
| DB203203190 | 203mm x 203mm x 190mm | 100 |
| DB150150200 | 150mm x 150mm x 200mm | 100 |
| DB203203230 | 203mm x 203mm x 230mm | 100 |
| DB203203250 | 203mm x 203mm x 250mm | 100 |
| DB253253254 | 253mm x 253mm x 254mm | 100 |
| DB203203360 | 203mm x 203mm x 360mm | 100 |
| DB378418325 | 378mm x 418mm x 325mm | 100 |