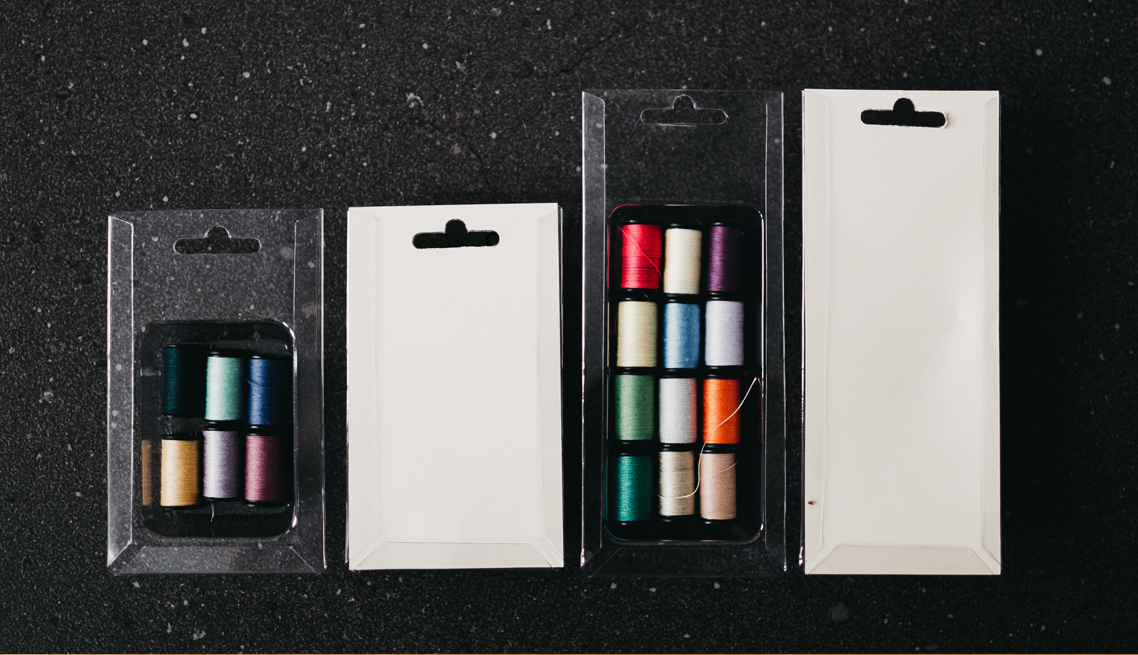 SLIDE IN CARD BLISTER PACKS
What is a Slide In Card Blister Pack?
A slide in card blister pack is a plastic packaging solution for products that can be hung from a hook by a hanger hole in store? This could be the product for you. We have a large range of standard sizes available.
Here is a list of attributes that describes our slide in card blister pack range:
Three edges are folded to hold a backing card
A backing card is slid down the back
Blister pack may have hanger hole punched in top
Large range of off-shelf sizes available or design your own.
We recommend stapling the package closed.
Samples available for cost of freight
Below are lists of our slide-in-card range of blister packs arranged in three different orders to help you find what you're looking for:
PRODUCT LIST:
| PRODUCT CODE | CAVITY SIZE | BACKING CARD SIZE | BOX QTY |
| --- | --- | --- | --- |
| FB4030 | 40 x 30 x 15 mm | 123 x 57 mm | 1,050 |
| FB4540 | 45 x 40 x 16mm | 115 x 65 mm | 3,600 |
| FB5050 | 50 x 50 x 18mm | 115 x 65mm | 1,000 |
| FB604525 | 60 x 45 x 25mm | 115 x 65mm | 2,100 |
| FB604534 | 60 x 45 x 34mm | 115 x 65mm | 2,100 |
| *R6* | 65 x 35 x 19 mm | 87 x 56 mm | 1,000 |
| BPS20 | 70 x 50 x 20 mm | 120 x 70 mm | 1,000 |
| BPS40 | 70 x 50 x 40 mm | 120 x 70 mm | 1,000 |
| FB7050 | 70 x 50 x 40 mm | 215 x 73 mm | 1,000 |
| FB705030 | 70 x 50 x 30 mm | 121 x 76 mm | 1,000 |
| BPL20 | 70 x 75 x 20mm | 120 x 95 mm | 2,700 |
| FB7075 | 70 x 75 x 20 mm | 200 x 100 mm | 1,600 |
| BPL40 | 70 x 75 x 40 mm | 120 x 95 mm | 1,000 |
| BPL30 | 70 x 75 x 30mm | 120 x 95mm | 2,000 |
| FB757030 | 75 x 70 x 30mm | 200 x 100mm | 1,050 |
| FB1006030 | 100 x 60 x 30mm | 152 x 82mm | TBA |
| FB1054525 | 105 x 45 x 25mm | 160 x 65mm | 1,800 |
| FB1054534 | 105 x 45 x 34mm | 160 x 65mm | 1,500 |
| FB11035 | 113 x 35 x 18 mm | 166 x 56 mm | 1,000 |
| FB120114 | 120 x 114 x 10 mm | 170 x 135mm | 1,320 |
| FB12080 | 120 x 80 x 15 mm | 170 x 100 mm | 1,000 |
| FB1204030 | 120 x 40 x 30 mm | 189 x 66 mm | 1,260 |
| FB13055 | 125 x 55 x 47 mm | 215 x 73 mm | 1,000 |
| FB13035 | 130 x 35 x 13 mm | 215 x 73 mm | 1,200 |
| FB13565 | 140 x 70 x 30 mm | 100 x 200 mm | 1,100 |
| FB14075 | 140 x 75 x 40 mm | 100 x 200 mm | 1,000 |
| FB140145 | 140 x 145 x 40 mm | 184 x 166 mm | 600 |
| *R2* | 142 x 37 x 23 mm | 200 x 60 mm | 1,000 |
| FB14565 | 145 x 65 x 18 mm | 228 x 84 mm | 3,240 |
| FB158150 | 158 x 148 x 67mm | 222 x 175mm | 560 |
| FB1653030 | 165 x 30 x 30mm | 214 x 79mm | 3,000 |
| *R3* | 160 x 40 x 25 mm | 225 x 66 mm | 1000 |
| FB19313716 | 193 x 137 x 16mm | 280 x 180mm | 500 |
| FB19555 | 195 x 52 x 30 mm | 263 x 80 mm | 700 |
| FB21050 | 210 x 50 x 20 mm | 258 x 100 mm | 800 |
| FB210120 | 210 x 120 x 50 mm | 300 x 145 mm | 250 |
| FB2104835 | 210 x 48 x 35mm | 240 x 70mm | 1,150 |
| FB2105040 | 215 x 52 x 40 mm | 299 x 72 mm | 700 |
| FB23085 | 230 x 85 x 80mm | 296 x 123mm | 330 |
| *R5* | 240 x 62 x 34 mm | 264 x 80 mm | 400 |
| FB2553030 | 255 x 30 x 30mm | 289 x 79mm | 1000 |
| FB33575 | 335 x 75 x 50 mm | 429 x 100 mm | 400 |
| FB35052 | 350 x 52 x 26 mm | 405 x 76 mm | 500 |
| FB3703030 | 370 x 30 x 30mm | 434 x 79mm | 1000 |
| PRODUCT CODE | CAVITY SIZE | BACKING CARD SIZE | BOX QTY |
| --- | --- | --- | --- |
| FB4030 | 40 x 30 x 15 mm | 123 x 57 mm | 1,050 |
| FB1653030 | 165 x 30 x 30mm | 214 x 79mm | 3,000 |
| FB2553030 | 255 x 30 x 30mm | 289 x 79mm | 1,000 |
| FB3703030 | 370 x 30 x 30mm | 434 x 79mm | 1,000 |
| FB11035 | 113 x 35 x 18 mm | 166 x 56 mm | 1,000 |
| FB13035 | 130 x 35 x 13 mm | 215 x 73 mm | 1,200 |
| *R6* | 65 x 35 x 19 mm | 87 x 56 mm | 1,000 |
| *R2* | 142 x 37 x 23 mm | 200 x 60 mm | 1,000 |
| FB4540 | 45 x 40 x 16mm | 115 x 65 mm | 3,600 |
| FB1204030 | 120 x 40 x 30 mm | 189 x 66 mm | 1,260 |
| *R3* | 160 x 40 x 25 mm | 225 x 66 mm | 1,000 |
| FB604525 | 60 x 45 x 25mm | 115 x 65mm | 2,100 |
| FB604534 | 60 x 45 x 34mm | 115 x 65mm | 2,100 |
| FB1054525 | 105 x 45 x 25mm | 160 x 65mm | 1,800 |
| FB1054534 | 105 x 45 x 34mm | 160 x 65mm | 1,500 |
| FB2104835 | 210 x 48 x 35mm | 240 x 70mm | 1,150 |
| FB5050 | 50 x 50 x 18mm | 115 x 65mm | 1,000 |
| BPS20 | 70 x 50 x 20 mm | 120 x 70 mm | 1,000 |
| FB705030 | 70 x 50 x 30 mm | 121 x 76 mm | 1,000 |
| BPS40 | 70 x 50 x 40 mm | 120 x 70 mm | 1,000 |
| FB7050 | 70 x 50 x 40 mm | 215 x 73 mm | 1,000 |
| FB21050 | 210 x 50 x 20 mm | 258 x 100 mm | 800 |
| FB19555 | 195 x 52 x 30 mm | 263 x 80 mm | 700 |
| FB2105040 | 215 x 52 x 40 mm | 299 x 72 mm | 700 |
| FB35052 | 350 x 52 x 26 mm | 405 x 76 mm | 500 |
| FB13055 | 125 x 55 x 47 mm | 215 x 73 mm | 1,000 |
| FB1006030 | 100 x 60 x 30mm | TBA | TBA |
| *R5* | 240 x 62 x 34 mm | 264 x 80 mm | 400 |
| FB14565 | 145 x 65 x 18 mm | 228 x 84 mm | 3,240 |
| FB757030 | 75 x 70 x 30mm | 200 x 100mm | 1,050 |
| FB13565 | 140 x 70 x 30 mm | 100 x 200 mm | 1,100 |
| BPL20 | 70 x 75 x 20 mm | 120 x 95 mm | 2,700 |
| FB7075 | 70 x 75 x 20 mm | 200 x 100 mm | 1,600 |
| BPL40 | 70 x 75 x 40 mm | 120 x 95 mm | 1,000 |
| BPL30 | 70 x 75 x 30mm | 120 x 95mm | 2,000 |
| FB14075 | 140 x 75 x 40 mm | 100 x 200 mm | 1,000 |
| FB33575 | 335 x 75 x 50 mm | 429 x 100 mm | 400 |
| FB12080 | 120 x 80 x 15 mm | 170 x 100 mm | 1,000 |
| FB23085 | 230 x 85 x 80mm | 296 x 123mm | 330 |
| FB120114 | 120 x 114 x 10 mm | 170 x 135mm | 1,320 |
| FB210120 | 210 x 120 x 50 mm | 300 x 145 mm | 250 |
| FB19313716 | 193 x 137 x 16mm | 280 x 180mm | 500 |
| FB140145 | 140 x 145 x 40 mm | 184 x 166 mm | 600 |
| FB158150 | 158 x 148 x 67mm | 222 x 175mm | 560 |
| PRODUCT CODE | CAVITY SIZE | BACKING CARD SIZE | BOX QTY |
| --- | --- | --- | --- |
| FB120114 | 120 x 114 x 10 mm | 170 x 135mm | 1,320 |
| FB13035 | 130 x 35 x 13 mm | 215 x 73 mm | 1,200 |
| FB4030 | 40 x 30 x 15 mm | 123 x 57 mm | 1,050 |
| FB12080 | 120 x 80 x 15 mm | 170 x 100 mm | 1,000 |
| FB4540 | 45 x 40 x 16mm | 115 x 65 mm | 3,600 |
| FB19313716 | 193 x 137 x 16mm | 280 x 180mm | 500 |
| FB5050 | 50 x 50 x 18mm | 115 x 65mm | 1,000 |
| FB11035 | 113 x 35 x 18 mm | 166 x 56 mm | 1,000 |
| FB14565 | 145 x 65 x 18 mm | 228 x 84 mm | 3,240 |
| *R6* | 65 x 35 x 19 mm | 87 x 56 mm | 1,000 |
| BPS20 | 70 x 50 x 20 mm | 120 x 70 mm | 1,000 |
| BPL20 | 70 x 75 x 20 mm | 120 x 95 mm | 2,700 |
| FB7075 | 70 x 75 x 20 mm | 200 x 100 mm | 1,600 |
| FB21050 | 210 x 50 x 20 mm | 258 x 100 mm | 800 |
| *R2* | 142 x 37 x 23 mm | 200 x 60 mm | 1,000 |
| FB604525 | 60 x 45 x 25mm | 115 x 65mm | 2,100 |
| FB1054525 | 105 x 45 x 25mm | 160 x 65mm | 1,800 |
| *R3* | 160 x 40 x 25 mm | 225 x 66 mm | 1,000 |
| FB35052 | 350 x 52 x 26 mm | 405 x 76 mm | 500 |
| FB1653030 | 165 x 30 x 30mm | 214 x 79mm | 3,000 |
| FB2553030 | 255 x 30 x 30mm | 289 x 79mm | 1,000 |
| FB3703030 | 370 x 30 x 30mm | 434 x 79mm | 1,000 |
| FB1204030 | 120 x 40 x 30 mm | 189 x 66 mm | 1,260 |
| FB705030 | 70 x 50 x 30 mm | 121 x 76 mm | 1,000 |
| FB19555 | 195 x 52 x 30 mm | 263 x 80 mm | 700 |
| FB757030 | 75 x 70 x 30mm | 200 x 100mm | 1,050 |
| FB13565 | 140 x 70 x 30 mm | 100 x 200 mm | 1,100 |
| BPL30 | 70 x 75 x 30mm | 120 x 95mm | 2,000 |
| FB1006030 | 100 x 60 x 30mm | TBA | TBA |
| FB604534 | 60 x 45 x 34mm | 115 x 65mm | 2,100 |
| FB1054534 | 105 x 45 x 34mm | 160 x 65mm | 1,500 |
| *R5* | 240 x 62 x 34 mm | 264 x 80 mm | 400 |
| FB2104835 | 210 x 48 x 35mm | 240 x 70mm | 1,150 |
| FB7050 | 70 x 50 x 40 mm | 215 x 73 mm | 1,000 |
| BPS40 | 70 x 50 x 40 mm | 120 x 70 mm | 1,000 |
| FB14075 | 140 x 75 x 40 mm | 100 x 200 mm | 1,000 |
| FB140145 | 140 x 145 x 40 mm | 184 x 166 mm | 600 |
| BPL40 | 70 x 75 x 40 mm | 120 x 95 mm | 1,000 |
| FB2105040 | 215 x 52 x 40 mm | 299 x 72 mm | 700 |
| FB13055 | 125 x 55 x 47 mm | 215 x 73 mm | 1,000 |
| FB210120 | 210 x 120 x 50 mm | 300 x 145 mm | 250 |
| FB33575 | 335 x 75 x 50 mm | 429 x 100 mm | 400 |
| FB158150 | 158 x 148 x 67mm | 222 x 175mm | 560 |
| FB23085 | 230 x 85 x 80mm | 296 x 123mm | 330 |
Please note the following:
*   R1 – R6 are not designed to cover the entire length of the card.  Card extends beyond top of blister (which is stapled to card).  These blister packs DO NOT include a hanger hole.  Card length on R1 – R6 is our suggestion only, but may be varied