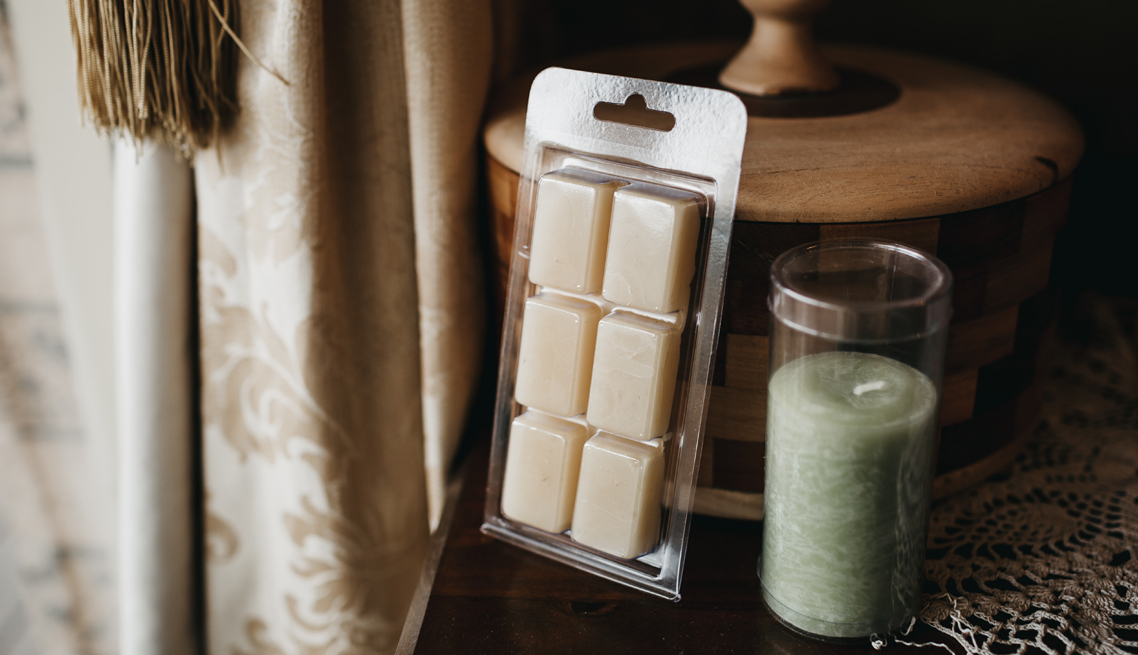 CANDLE PACKAGING AND WAX MELTS PACKAGING MANUFACTURER
WAX AND CANDLE PACKAGING
Candle Packaging Options
Plastic cylinders can make the perfect option for candle packaging. That's because they're round like a candle. This means that round candles fit perfectly into them without much wasted space. We have a standard range of diameters as well as heights.  Below is a list of our compete cylinder range, but feel free to contact our friendly staff to discuss your requirements. If you have square candles for example, you may find that one of our boxes work better. Check out our full range of boxes here.
Wax Melt Packaging
At the moment we have one clamshell pack that was made for wax melts. Melted wax can be poured directly into the cavity. The cavity of the tray is approximately 1.5cm deep.  However, the divisions between the segments are about 1cm deep. Therefore the trays can be filled allowing the separate melts to join via a slab. This is similar to a family chocolate bar. You also need to know that the front dimensions of each segment is about 2cm x 3.5cm.
Other Wax Packaging
Below is a complete list or our current cylinders that you may find suitable for your candle packaging needs. You may also find some of our boxes work for cylinders, and for something special, perhaps our novelty boxes may work well too. However that doesn't mean that this list is all that we can make. If it's not a product that we make already you will need to either buy tooling or make a contribution towards tooling, but we can help you with that. Give us a call to discuss your needs. We would love to hear from you.
| PRODUCT CODE | DIAMETER | HEIGHT | BOX QTY |
| --- | --- | --- | --- |
| CY39180 | 39mm | 180mm | 200 |
| CY50110 | 50mm | 110mm | 112 |
| CY68170 | 68mm | 170mm | 106 |
| CY68190 | 68mm | 190mm | TBA |
| CY68200 | 68mm | 200mm | 90 |
| CY68210 | 86mm | 210mm | 80 |
| CY68215 | 68mm | 215mm | 80 |
| CY8045 | 80mm | 45mm | TBA |
| CY8070 | 80mm | 70mm | 100 |
| CY80100 | 80mm | 100mm | 136 |
| CY80110 | 80mm | 110mm | 102 |
| CY80120 | 80mm | 120mm | TBA |
| CY80135 | 80mm | 135mm | 102 |
| CY80150 | 80mm | 150mm | 87 |
| CY80155 | 80mm | 155mm | 82 |
| CY80190 | 80mm | 190mm | 68 |
| CY80200 | 80mm | 200mm | 68 |
| CY80220 | 80mm | 220mm | 56 |
| CY80300 | 80mm | 300mm | 72 |
| CY80420 | 80mm | 420mm | 48 |
| CY80460 | 80mm | 460mm | 48 |
| CY10050 | 100mm | 50mm | 140 |
| CY100110 | 100mm | 110mm | 60 |
| CY100200 | 100mm | 200mm | 40 |
| CY12555 | 125mm | 55mm | 91 |
| CY12570 | 125mm | 70mm | 65 |
| CY12583 | 125mm | 83mm | 52 |
| CY125100 | 125mm | 100mm | 52 |
| CY125127 | 125mm | 127mm | 39 |
| CY125170 | 125mm | 170mm | 51 |
| CY125180 | 125mm | 180mm | 48 |
| CY16035 | 160mm | 35mm | 160 |
| CY16060 | 160mm | 60mm | 84 |
| CY16075 | 160mm | 75mm | 72 |
| CY16080 | 160mm | 80mm | 60 |
| CY16090 | 160mm | 90mm | TBA |
| CY160100 | 160mm | 100mm | 48 |
| CY160110 | 160mm | 110mm | 48 |
| CY160155 | 160mm | 155mm | 36 |
| CY160175 | 160mm | 175mm | 24 |
| CY160200 | 160mm | 200mm | 24 |
| CY160230 | 160mm | 230mm | 24 |
| CY160270 | 160mm | 270mm | 18 |
| CY200100 | 200mm | 100mm | 30 |
| CY200290 | 200mm | 90mm | 10 |
| CY25090 | 250mm | 90mm | TBA |
| CY250110 | 250mm | 110mm | 18 |
| CY250170 | 250mm | 170mm | 8 |
| CY250340 | 250mm | 340mm | 4 |
| CY250635 | 250mm | 635mm | Special Order |
| PRODUCT CODE | DESCRIPTION | CARTON QTY |
| --- | --- | --- |
| CWAX001 | 6 cavity clamshell | 750 |