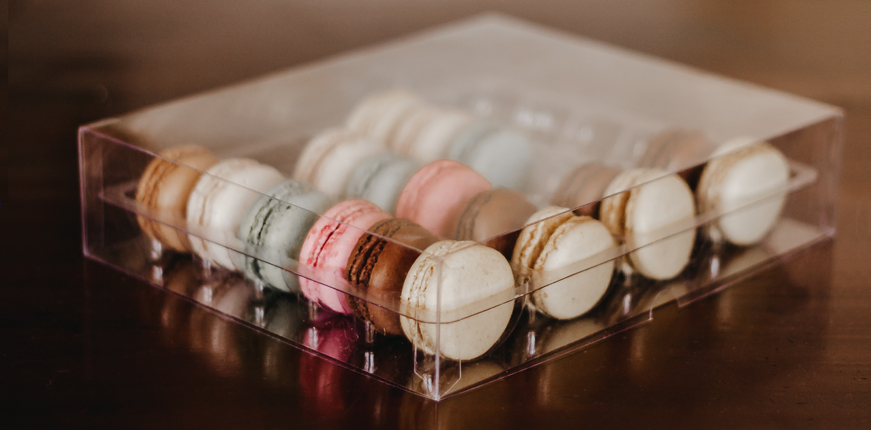 Macaron Boxes
posted by:

admin

No Comments
Macaron boxes are now available from Shiloh Plastics
They are made to suit our macaron trays. These trays come in sizes that fit six, twelve or twenty-four macarons. We are excited to bring you this news as we know how popular macarons have become. If you are a baker and make these tasty treats for the market we know that you will be looking for a great way to package your macarons. Therefore, these macaron boxes along with our trays may be the answer that you are looking for.
Currently two sizes available
At the moment we have two options. Firstly, we have a flat packed box that will fit the six cavity tray plus six macarons. This box is the one featured in the picture above. As stated it will come flat packed. For more information on this box style, check out this link on flat packed boxes. Note that this box opens from the short end rather than the top keeping your macarons safe. The minimum order quantity is 100 boxes.
The second option is made to hold our twenty-four cavity tray with 24 macarons. This box is made of a separate lid and base. The lid fits over the top of the of the base like a shoe box. The only difference is that the bottom edges of the lid go all the way to the bottom rather than the lid just sitting on top. To get an idea of what that would look like, take this link to our complete list of Lid and Base boxes to see a picture. The minimum order quantity for this box is also 100 boxes.
Other sizes can be made
While we only have two boxes at the moment, it is possible for us to make other sizes. Also, our current trays 45 millimeter macaron with a depty of 25 millimeters. This is a small macaron. If your macarons are particularly large they may not fit. Therefore, boxes as well as trays can be made in your preferred style. If we don't have what you're looking for at the moment, give us a ring. We can discuss with you what is required to make your perfect box.  Our current trays 45 millimeter macaron with a depty of 25 millimeters.

Beautiful Presentation
When used together these boxes and trays are able to protect your macarons as much as possible. They also look fantastic on the shelf as you can see from the picture above. Talk to us today about which products would suit your macarons.
Order Quantities
When purchased together, you can buy as little as 100 boxes and trays.  However if you only purchase the trays, the minimum quantity for these is 1,000.